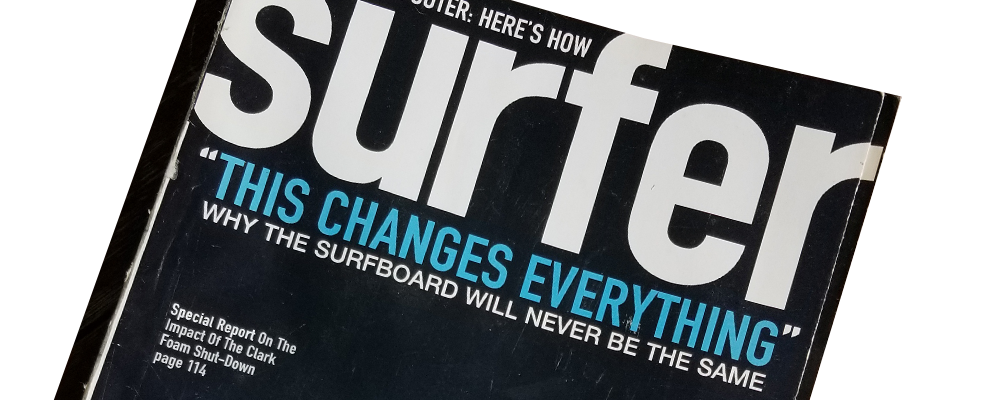 Surfer Magazine's Last Issue - Why it's the 2nd best thing that has happened to surfing in the past 60 years
Surfer Magazine just called it quits.
After 60 years of brainwashing surfers, controlling trends, determining what's "cool" in our culture, and wrecking the vibe, you are now free to discover the true spirit of surfing without bias.
Long story short, Greenlight Surf Supply has had a sordid affair with Surfer Mag over the past few years ever since we started advertising with them in 2009. Other than all the bad and un-researched info they've spread whenever some crappy article about surfboard shaping was published, Surfer Magazine censored some of our advertisements (more than once) and even pulled a Christmas promotional ad from the magazine because "We have a number of Board brands that consistently support us and we know [your promotion] will be an issue"...
I guess the LostFireChannel bullshit brands didn't pay their bill to Surfer Magazine, even though 90% of ads in the magazine are bullshit clothing brands made overseas and forced down your throat by Surfer Mag month after month. That's not surfing...
You wanna know why they suppressed our Christmas 2017 promotion? Because Greenlight wanted everyone to know about our custom surfboard blank design and cutting service that allows any surfer to copy a big brand name board design and build that board themselves (but with stronger materials) for about 1/3rd the cost and a million times more stoke. 
See, it has always Greenlight's goal to make surfboard building as easy and accessible as possible so all surfers, regardless of age or ability level, to experience a deeper and more soulful experience with surfing by designing, shaping, and glassing your own surfboards at home. That's how surfing started, circa 500 AD: Surfboards were hand carved from trees with pieces of sharp coral by the rider and having a surfboard back then was the ultimate status symbol. Tribal chiefs and nobles ride boards as long as 25 feet, while commoners caught waves on 7-footers.
Now surfers who design and build their own surfboards can be considered "nobles" in the surfing world. Commoners buy inferior products and lies that were fed by the now debunked Surfer Magazine...
Below is an image of the Surfer Magazine Volume 47 Issue 3, March 2006 cover of which I've been saving for over 14 years. It's shortly after Clark Foam closed it's doors and the surfboard world was in a tizzy. A copy of this cover was taped to the wall in my garage to serve as inspiration while I experimented and continued to improve the EPS foam, epoxy resins, and methods I had been building my own boards with. To this day Greenlight continues to improve the process of building boards so every surfer has the opportunity to ride with pride.
The title of this iconic Surfer Magazine issue is
"THIS CHANGES EVERYTHING"
Why The Surfboard Will Never Be The Same
I knew then there as no doubt surfboards will never be the same because I am on a mission to unlock the potential for all surfers to experience what many of us already feel when riding our own home built boards. And Greenlight IS CHANGING EVERYTHING you thought you new about surfboards.
The title of this blog post is Surfer Magazine's Last Issue - Why it's the 2nd best thing that has happened to surfing in the past 60 years
The first best thing that has happened to surfing in the past 60 years is Greenlight. More distinctly our extensive how-to-build-a-surfboard educational resources, our high quality surfboard shaping and glassing materials and specialized tools, and our dedication to helping you have more fun in the water and raise your stoke levels.
Good riddance Surfer Mag. Now we can all get back to the true spirit of surfing, like noble ancient polynesians connecting with nature on our own free terms.
~Brian