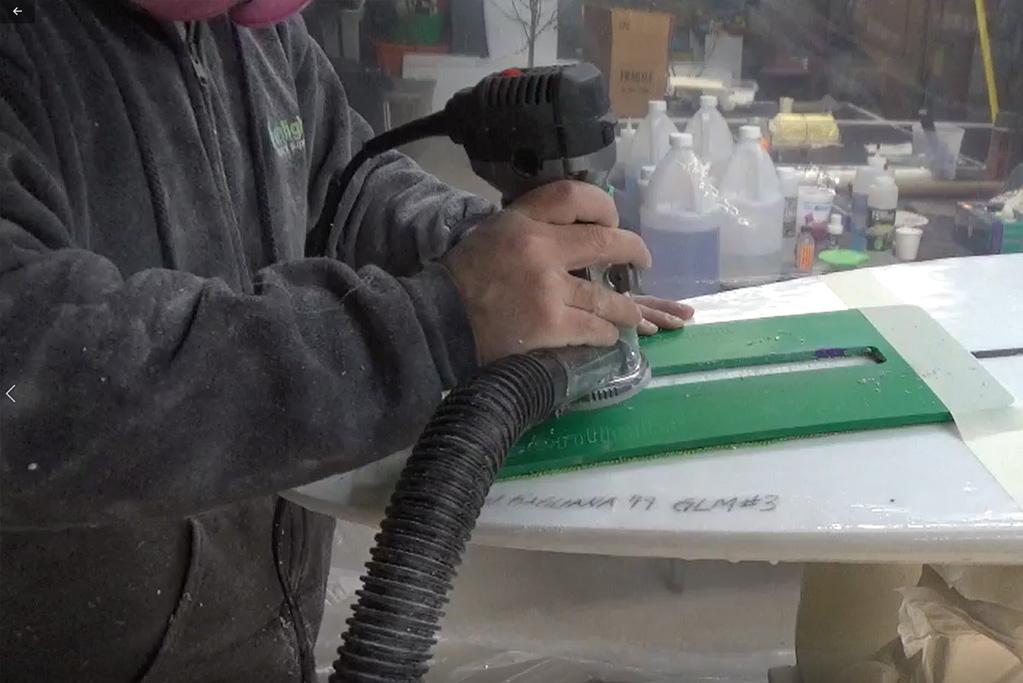 How to Install a Longboard Surfboard Center Fin Box Safely
How to install a longboard center fin box with the Greenlight plunge router and center fin install template jig.
The Greenlight Center Fin Install Kit can be purchased HERE 
We've designed this fin box router system to be the safest way to install fin boxes by using a plunge routing method and plastic jig template.
Step 1. Position jig and tape down firmly
Step 2. Place Greenlight Router Base Plate Bushing on RIGHT LOWER CORNER of jig (when the spinning router bit touches the board it will want to move sideways to the right, this won't happen if you start in the right corner position - safety first!)
Step 3. Turn on router and slowly plunge into the foam. Note: For stringerless blanks or High Density Stringers you can plunge full 1" depth. For wood stringers we recommend plunging only 1/4" increments at a time for less stress and increased safety. You can also plunge the full 1" depth and skim cut the stringer with multiple passes to "shave" the wood away.
Step 4. Check the depth and size of the routed pocket is correct before removing the jig from the board.
Step 5. Cut a strip of fiberglass approximately 3" wide x 10" long for reinforcing the center fin box
Step 6. Tape off the area around the pocket to keep resin off the fiberglass for less sanding
Step 7. Mix 3 oz of resin and pour about 2 ounces into the routed pocket.
Step 8. Lay the fiberglass strip over the pocket and push the fin box down so the resin squeezes up. Top off the sides on the box with resin and pop any air bubbles. Make sure there are no air pockets around the perimeter of the fin box.
Step 9. Tape a dummy fin or piece of 3/8" wood to the board to keep the fin box perpendicular and put a downward force on the box to ensure it doesn't float up on the resin.
Step 10. When the resin cures sand the top of the fin box to the rocker curve of the surfboard and remove tape. You can remove any tape residue with WD-40 or acetone and scrape with a razor blade.