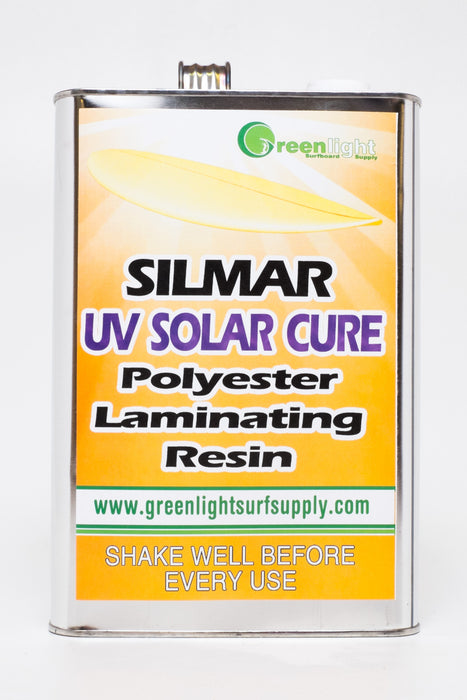 UV Solar Cure Polyester Surfboard Resin
Save up to

$ 0.00
Save

$ -24.85
Original price
$ 24.85
-
Original price
$ 329.69
UV Solar Cure Polyester Surfboard Resin
UV Solar Cure poly resin contains a curing catalyst that is activated by UV rays from the sun or ultra-violet bulbs. Water clear polyester resin cures in about 3 minutes when exposed to sunlight. Take as much time as you need to laminate and hotcoat in a shaded area and bring the board into the sunlight to cure.

For fin box and leashplug installation, and when working with color resin tints and pigments, use MEKP Catalyst  for curing the resin since UV rays will not completely penetrate the resin in those situations. You can use 1% MEKP in the UV resin to give you more time to laminate.
Save money and simply add Surfacing Wax  to make your own hotcoat/sanding resin and gloss resin (+Styrene). No need to buy a separate gallon of poly sanding or gloss resin that will go bad in a short time!
How to successfully hotcoat with UV Sun Cure resin:
Mix surfacing wax with the UV cure resin and hotcoat as normal. "Flash" the hotcoat in the sun for about 10 second to initiate the cure and bring back inside for 10 minutes to let the wax rise to the top and harden. Then put the board back in the sun for 3 minutes to fully cure your hotcoat.
If you do not "flash" the hotcoat and cure the resin before the wax rises it will remain sticky and not be sandable.  
*Polyester resin has a 6 month shelf life. Please use the resin within 5 months of purchase to be sure it it fresh.
Download Greenlight's General Polyester Catalyst and Surfacing Wax Additive Chart
Download Greenlight's Resin Amounts per Board Length Chart 

DOWNLOAD THE SILMAR 249 POLYESTER RESIN MSDS SHEET HERE

SHIPPING NOTICE: Continental US and Canada shipping only. We cannot ship chemicals to Hawaii or Internationally. (But we're working on it!). Due to USPS constraints all resin shipment will be delivered by UPS Ground regardless of shipping method requested at checkout.