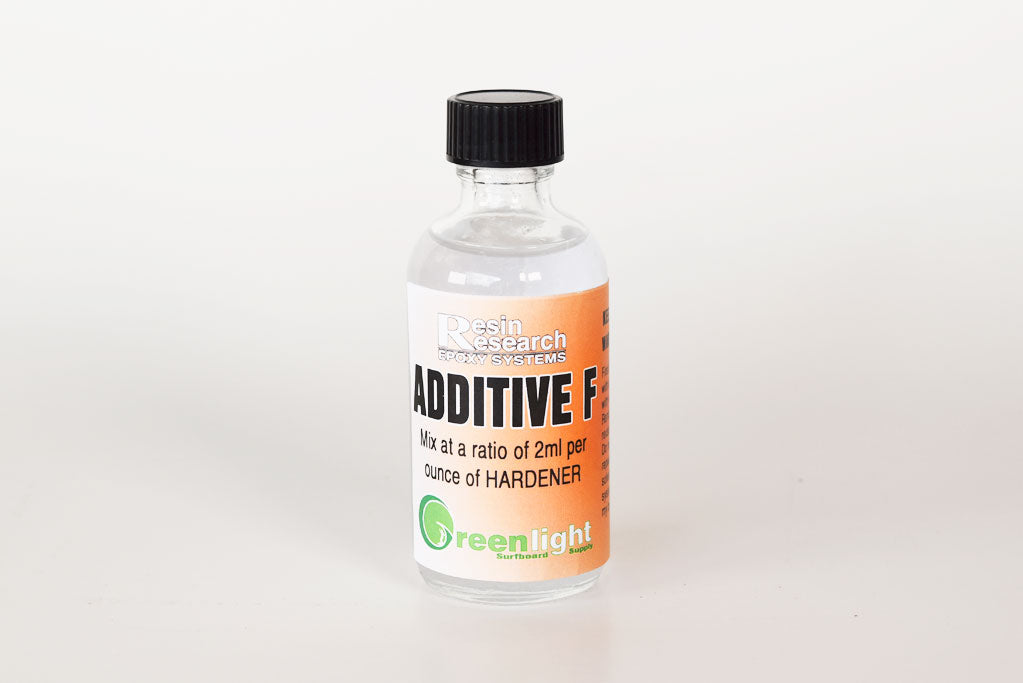 Resin Research Additive F
Save up to

$ 1.00
Save

$ 1.00
Original price
$ 6.00
-
Original price
$ 48.00
Resin Research Additive F Epoxy Surfacing Agent

ADDITIVE F is a miracle breakthrough in the production of epoxy surfboards built with Resin Research Epoxy.
It does so many things it's unbelievable. In laminating, it helps wet the fiberglass,
reduces the amount of resin needed, and most of all eliminates blush. Blush is what causes the banana peel effect.
In sealcoat / hotcoats it eliminates blush, fish eyes, other surface blemishes, and increases Barcol hardness. This increase in hardness makes the board sand easy and improves the bond and strength between layers.
It also doesn't interfere with recoating as wax solution in polyester does. That means no sanding between layers.

Available in the following quantities:

2 oz. (for use with up to 96 oz. Resin Research Epoxy)

4 oz.

16 oz. 

32 oz.
Not designed for use with epoxy resin systems other than Resin Research. Results will vary.
How to use Additive F:
1cc per ounce Hardener for Laminating
2cc per ounce Hardener for Sealcoat / Hotcoating
SHIPPING NOTICE: Continental US and Canada shipping only. We cannot ship chemicals to Hawaii or Internationally. (But we're working on it!).