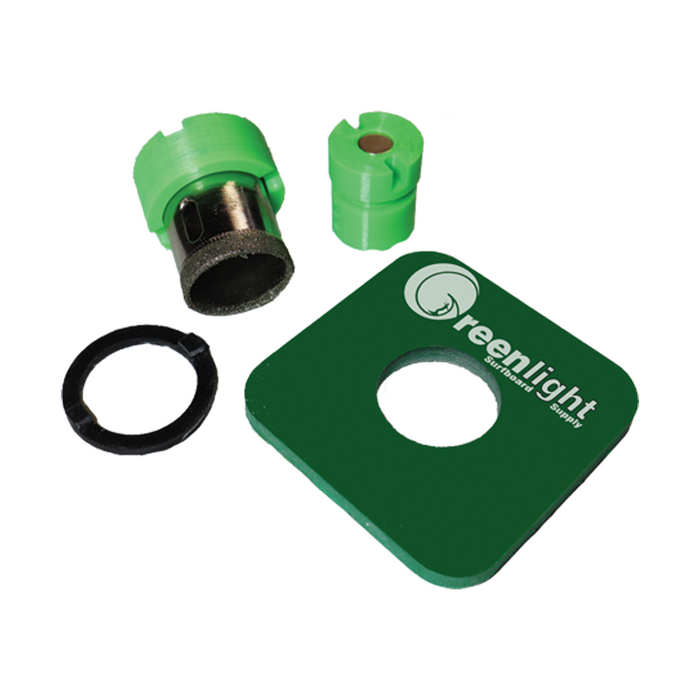 Surfboard Leash Plug Install Kit
Save

$ 0.00
Save

$ -29.95
Original price
$ 29.95
-
Original price
$ 29.95
Surfboard Leash Plug Install Kit

Professional surfboard leash plug install kit ensures quick and accurate hole depth and a centering drill template to prevent the bit from running sideways.
Included is the new "Scott Tool" which grinds the bottom of the leash plug pocket flat and flush for a perfect install!
1 3/16" hole diameter for use with Greenlight Vented Leash Plugs, FCS micro leash plugs*, and FACTORY micro leash plugs*.  *attach the depth shim to base of tool for these leash plug installs at 1/2" deep... Vented Leash Plugs are 5/8" deep and do not need the depth shim.
Includes:
Diamond Leash Plug Holesaw Bit
Depth Stop Collar
Micro Plug Depth Stop Shim
Drill Centering Jig
"Scott Tool" to Grind the base of the pocket flat
Resin Syringe for injecting resin around plugs
It is recommended to install leash plugs on the surfboard's stringer for optimal strength. 
 
*Kit color may vary depending on raw material availability*

Watch the leash plug install video here: