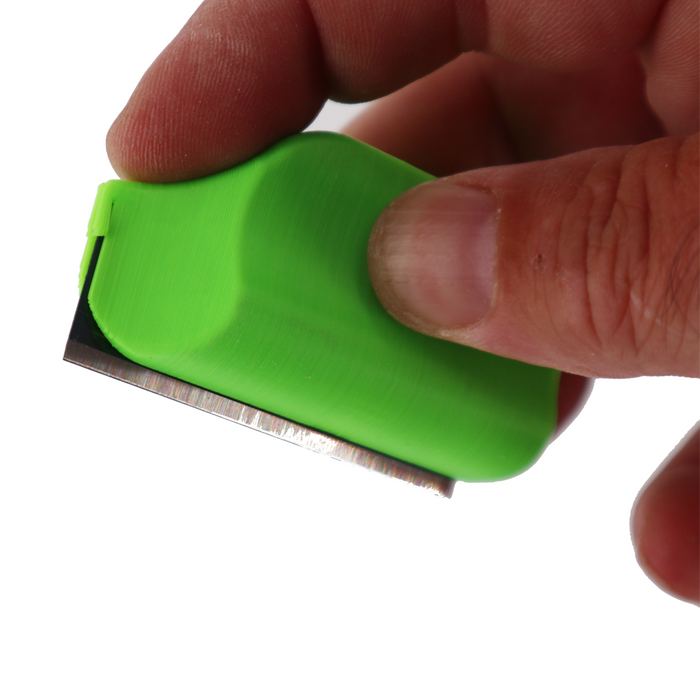 Surfboard Glassing Razor Scraper / Cut Lap Tool
Save

$ 0.00
Save

$ -13.95
Original price
$ 4.97
-
Original price
$ 13.95
Surfboard Glassing Razor Scraper / Cut Lap Tool
Say goodbye to sanding your surfboards! Another Greenlight engineered tool for smarter surfboard building...
Maintain a high gloss epoxy finish and keep your board water tight. Don't sand it - SCRAPE IT! How many times have you sanded through the sealcoat and expose fiberglass weave, only to have to recoat the area and burn through again? Or kill a pin line by sanding through? Or try to clean up your workspace (and yourself) after sanding a surfboard? Not anymore...
Featuring a heavy duty super sharp carbon steel blade that provides 4 fresh corners for cut laps and 2 flat razor edges for scraping your sealcoat. Simply rotate the blade in the tool holder when it gets dull.
What you can do with this razor tool:
Easily cut through CURED epoxy with 6 oz. fiberglass cloth laps. (because as DIY board builders we can't wait for perfect timing to cut the lap - just let is cure and cut it when you get around to it!)
Eliminate the need to sand your boards by scraping the parts that matter!
Scrape the resin bead left on the rail from the tape when seal coating for a smooth rail
Scrape and shape the resin built up in the tail from your tape dam and define your hard edge for water release
Cut open and scrape pre-glass fin box installs to open up the pocket for the fin to go it (which is traditionally done when sanding the bottom of the board)
Scrape cured fiberglass laps flush with the foam or previous lamination.
Includes tool and (1) heavy duty blade. Replacement razor blades available.
How to use the razor scraper / cut lap tool video: