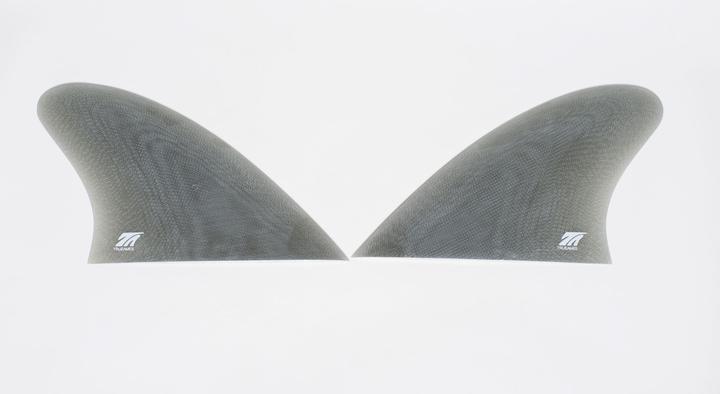 The difference between Keel fin and Twin Fins and where to place them on your surfboard
Making a Surfboard with a Twin fin or Keel Twin setup? They're a lot different...
Twin fins are generally a deeper fin (5.5"+) and have a narrower base than a keel fin. They can be positioned anywhere from 5"-10 1/2" from the tail depending on the size of the fin and what you want the board to do. Obviously further back is more drivey, way up is super loose and for really good surfers in good waves... 1/8" toe-in, 1 1/4" in from rail. 
Also remember a surfer's back foot placement is a big part of how the fin works. My back foot typically lands 12" from the tail and I don't use tail pads (old school) so I benefit from fins a bit further up if I want the board to be looser. A correctly placed tailpad can help the surfer get his back foot where it needs to be for any fin placement to work the way it's intended.
A twin keel setup if different than a twin fin setup as the keel fins have more surface area and a longer base which provides drive and stability. Keels are placed 5" - 9" from the tail with minimum cant (0-3 degrees) and zero to 1/8" toe in. If keels are used with a swallow tail the trailing edge of the keel should never go past the intersection of the swallow tips (a.k.a "the butt crack").  They should be in line with the butt crack or 1-3" up from the butt crack in general.