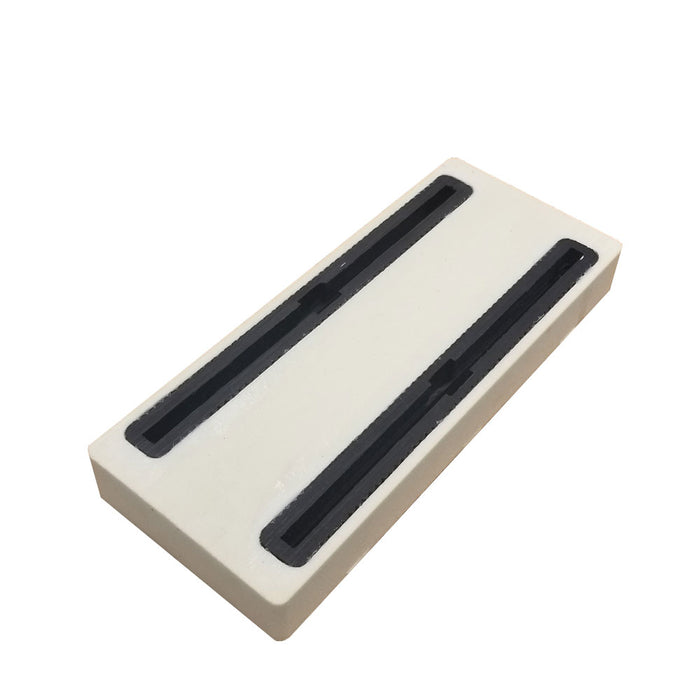 Surf Foil High Density Mast Insert
Sold out
Original price
$ 79.75
-
Original price
$ 79.75
Surf Foil High Density Mast Insert
Install this High Density Polyurethane Foam Foil Mast Insert into the bottom of your foil blank.
(2) 10.5" centerfin channels are epoxied in and reinforced with 6 oz. fiberglass cloth  spaced at industry standard 3.50" [90mm] apart on center to accept the foil mast base plate.
Use a 1 1/4" long router bit to install the insert.
Dimensions:
12" x 5" x 1.50" deep
How to install a surf foil high density mast insert:
1. Trace the insert and hand route the pocket for a tight fit - or you can make a plywood template jig. If there's play in the box install lay pieces of fiberglass or carbon in the pocket to take up space and provide more support.
2. Install the insert with epoxy resin, tape over the fin box slots so resin doesn't get in and laminate a patch of fiberglass
or carbon over the insert and the bottom of the board.
3. Cut through the reinforcement with a razor blade to remove the tape when the resin gels (about 45 mins - 1 hour). 
4. Tape over the fin boxes again and sealcoat with epoxy resin
 Note: Channel box color may vary depending on stock (black or white)