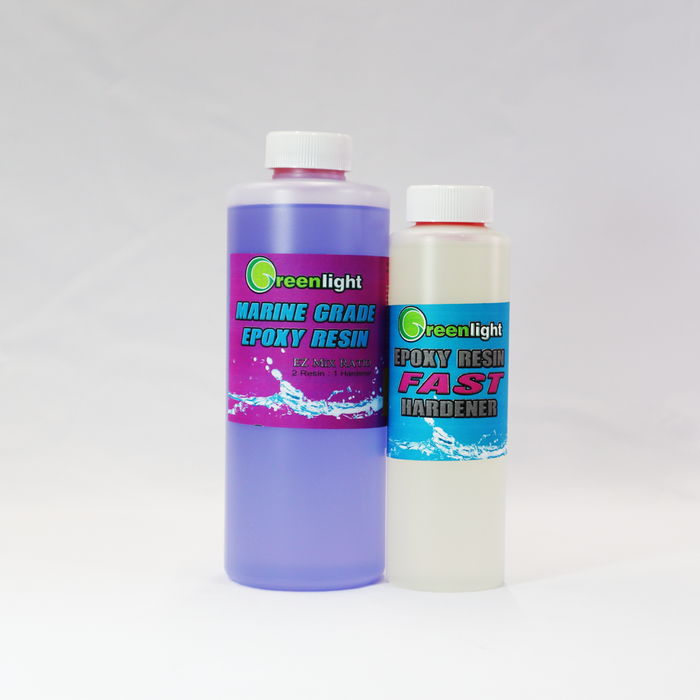 Epoxy - Greenlight Marine Grade Epoxy Resin System with FAST HARDENER
Save up to

$ 0.00
Save

$ -16.80
Original price
$ 16.80
-
Original price
$ 500.00
Greenlight Marine Grade Epoxy Resin System 
Now with Enhanced UV Protection and Optical Brightener!
Greenlight Marine Grade Epoxy Resin System is the result of 15 years of epoxy resin usage and development focused on solving the common problems associated with using epoxy resin in less than optimal environments (a.k.a. your typical dusty DIY workspaces)

Features:
Self Leveling
High Surface Tension Tolerant of Small Dust Particles (greatly eliminates pinholes and fisheyes typical of epoxy sealcoats*)
Integrated Bubble Releasing Agent

High Gloss Finish
Easy 2:1 Mix Ratio (100:45 by weight)
Water Resistant for all Marine Applications
U.V. Resistant
Accepts Epoxy Pigments or Tints with no Discoloration
100% Solids (Very low V.O.C)
Proudly Made in U.S.A
Why we use purple optical brightener in Greenlight Marine Grade Epoxy Resin
Epoxy and polyester resin can turn yellow or amber color for a few reasons, the most common being exposure to UV light. When UV light hits the resin, it breaks down the chemical bonds in the resin, which causes the resin to yellow. This process is called photodegradation.
Purple is a complementary color to yellow. This means that when purple is placed next to yellow, the two colors cancel each other out, making the yellow appear less yellow. This is why purple is often used in optical brighteners. The purple pigment in the brightener absorbs the yellow light that is reflected off of the surface, making the surface appear whiter.
In addition to making the resin appear whiter and brighter, the purple optical brightener in Greenlight Marine Grade Epoxy Resin also absorbs more UV light, which protects the resin and substrate from yellowing. 
Note: This resin looks really purple in the bottle and mixing bucket (in volume) but when applied in a thin coat (laminations and seal coats) it is clear with no visible purple hue - it looks bright white!
In addition, you can add epoxy tints and pigments to this resin with no change to the intended color. There is such a small amount of purple optical brightener it will not affect the pigment or tint color.
*Recommended sealcoat amount for surfboards is 3 oz. mixed resin per linear foot of board. For example, a 6'0" long surfboard would use 18 oz. mixed resin (6 x 3 oz.) for excellent results.
Also minimal brush strokes leads to a better finish. Brush it out once to cover and walk away. 
| | | | |
| --- | --- | --- | --- |
| Speed | Pot Life | Cure time | Temperature |
| Fast Hardener | 20 mins | ~120 Minutes | 77 F (25 C) |
| Slow Hardener | 40 mins | ~240 Minutes | 77F (25 C) |
| FAST FUSE | 20 mins | ~75 Minutes | 77F (25 C) |
 Watch Andrew W's review of Greenlight Marine Grade Epoxy Resin:
Available in the following quantities:

6 oz. Kit (4 oz. Resin / 2 oz. Hardener)
48 oz. Kit (32 oz Resin / 16 oz. Hardener)
96 oz. Kit (64 oz. Resin / 32 oz. Hardener)
1.5 Gallon Kit (128 oz Resin / 64 oz. Hardener)
3 Gallon Kit (256 oz. Resin / 128 oz. Hardener)
6 Gallon Kit (512 oz. Resin / 256 oz. Hardener)


Download and Print our Greenlight Marine Grade Epoxy Resin Mix Ratio By Weight Chart for perfect mix ratios and optimal results. We recommend weighing the resin with an epoxy digital scale and use epoxy dispensing caps to nail the weight ratio.